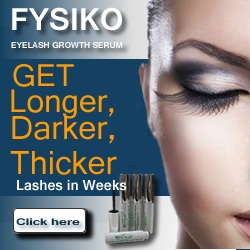 Most effective eyelash growth serum is FYSIKO Eyelash Growth Serum.
There are many eyelash growth serums on the market. LATISSE, prescription treatment for not enough eyelashes, requires doctor's prescription, costs about $100.00, plus doctor's appointment. LILASH, distributed by many spas and salons, is about $120.00 for 4 months supply, makes eyelashes mostly longer, but not thicker.
FYSIKO eyelash growth serum is very effective, works fast and efficient.
It does not do magic, but pretty close to it… It provides longer and thicker, stronger eyelashes within first 4 weeks and continues to make eyelashes longer and thicker until eyelashes double or even triple in size within 16 weeks.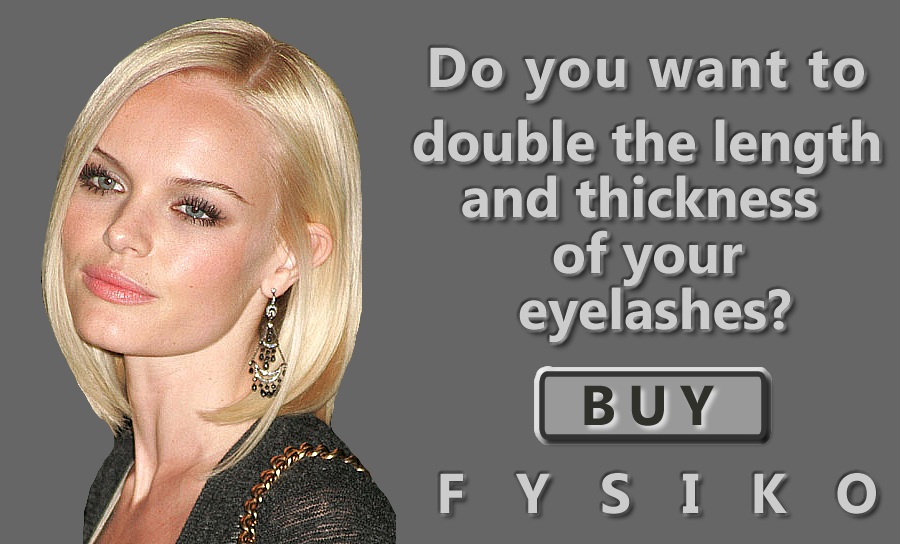 Fysiko Eyelash Growth Serum is expensive compare to some other low cost eyelash growth serums, but it lasts 6-8 months, has convinient applicators, and, most importantly, it really works. It does not moisturize eyelashes, it makes eyelashes grow, and results are not only visible, but could be easy documented by photographs.


Fysiko Eyelash Growth Serum Active ingredients:
-Bio-Peptides and Amino Acids: Help to repair and strengthen fragile eyelashes and eyebrows.
-Vitamin E, Olive oil, Thyme, Biotin, Soy Protein : Natural lash enhancers.
-Sodium Hyaluronate: Promotes hydration and helps eyelashes and eyebrows appear shiny and strong.
-Methylamido Dihydro Noralfoprostal: Promotes healthy lash follicles for full growth potential.
-Panthenol: Helps eyelashes and eyebrows last longer by making them more flexible.
Fysiko' EyeLash Growth Stimulator's List of Ingredients:
Water, Glycerin, Hydrolyzed Glycosaminoglycans, Panthenol (Vitamin B5), Vitis Vinifera (Grape) Seed Extract, Sodium Lactate, Panax Ginseng Root Extract, Proline, Yeast Extract, Phenoxyethanol, Biotin, Hydrolized Soy Protein, Chamomilla Recutita (Matricaria) Flower Extract, Hexapeptide-11, Niacinamide (Vitamin B3), Thyme xtract, Palmitoyl Pentapeptide-4, Arcyostaphylos Uva Ursi (Bearberry) Leaf Extract, Olve Oil, Sodium Hyaluronate,Magnesium Ascorbyl Phosphate (Vitamin C), Retinyl Palmitate (Vitamin A), Tocopheryl Acetate (Vitamin E) Polysorbate 20, Hydroxyethylcellulose, Sorbitol, Triethanolamine, Methylisothiazolinone, Methylamido Dihydro Noralfaprostal.
Warning:
This product is not treating any diseases, not FDA approved.
-This formula should not be used by those who are pregnant, nursing, actively undergoing chemotherapy, or under the age of 16. This product hadn't been tested on pregnant, nursing, or underaged customers.
-Discontinue to use if redness or irritation occurs. Most of the time redness and irritation caused by overuse of Fysiko Eyelash Growth Serum.
-About 7% of users experience puffy eyelids which dissaperes within 3-4 days of usage.
-If excessive irritation occurs, consult your physician immediately.
-Keep out of reach of children.
-Excessive use of this product can lead to darkening of the skin next to eyelashes.
-After 6 weeks of regular use, 89% of trial participants reported that their eyelashes doubled in length and look fuller.
-Use Fysiko Eyelash Serum once ( maximum twice) a day at bedtime.
-Use brush to apply a line of product along the roots of the upper lash line.
-Use sparingly; only a small amount of product is necessary for each application.
-Using more and more often can cause temporary irritation.
-If using eye makeup remover prior to application, rinse the eye area with warm water to neutralize and wait until eyelashes are fully dry before applying product.
-Remove contact lenses before applying. If applied in the morning – put contact lenses on in 10-15 min after Fysiko Eyelash Serum application.
-If desired, also apply product to clean eyebrows at bedtime.