This article will show you how to get long eyelashes fast.
Eyelashes important
Why would you want to get long eyelashes fast? Big eyes, long eyelashes, silky shiny hair… little things, very important for everyone. While some things in our appearance may be changed, some couldn't, so the whole idea would be to improve what we can and accept the rest… If one is washing hair with right type of shampoo and use correct conditioner, applies masques for hair and takes vitamins, quality and texture of hair will improve.
Long and full eyelashes make any eyes look bigger and deeper, so good mascara, curler and good eyelash enhancing product are most important products woman could keep in her cosmetic bag.

How to take care of eyelashes daily to prevent damage
1. No rubbing – use makeup remover which will allow to dissolve makeup, not rub off
2. Use moisturizer once a week – despite any great eyelash enhancer you might be using, still once a week the whole length of eyelashes need to be moisturized (use olive oil, just brush eyelashes once with oil, using mascara like brush)
3. Remove makeup every single night, no exceptions.
Natural remedies to grow long eyelashes
Castor Oil
Castor oil will help your eyelashes to grow thick and long, and can keep them from breaking. It can also help you grow new eyebrow hair in bare areas that might've been over-tweezed. Brush nightly with mascara like wand to the whole length of eyelashes.
Olive Oil
Extra Virgin Olive Oil will help to moisturize eyelashes and provide healthier, shinier hair of eyelashes. Dab a Q-tip to olive oil and brush eyelashes with it.
Panthenol
Panthenol., or Vitamin B5, is known to help to get longer, shinier hair and eyelashes. Mix a drop with 10 drops of olive oil to create a solution and brush it on to eyelashes.
Vaseline
Vaseline locks moisture in, so if brushed onto eyelashes nightly it helps eyelashes to save moisture
Emu Oil
Emu oil, if used once a week, helps to provide moisture to eyelashes and provide one with healthier, shinier eyelashes
Extensions will get me long eyelashes fast
True! Extensions will get long eyelashes fast!
It would take about 2-3 hours for initial application and over an hour every three weeks to reapply.
Extensions are also expensive, but resolve eyelash problem right away. It may damage eyelashes if you don't use eyelash serum to support natural eyelashes being chemically damaged by glue.
Extensions will help you to get long eyelashes fast!
Few tips on how to get long eyelashes fast
1. Take off make up every night. If makeup is not removed every night it will damage eyelashes, skin around eyes and will make skin look older. Dead cells on the top of the skin will not allow skin to breath and may even create an infection.
2. Change your diet. Diet that is lacking Omega3 oils and protein will slow down hair, nail and eyelashes growth. Lean protein and fish oil (or Fish oil supplements) have to be a part of your daily diet if you are trying to grow eyelashes, hair or get better nails.
3. Take vitamins. It is very hard to make sure that your body is fully supplied with all required vitamins, unless you routinely eat different colors of vegetables with every single meal. It is advised to take extra dose of Biotin and make sure all other vitamins ( B6, B12, A, D, C and E) are supplied to your body.
4. Add extra food for your eyelashes. It is recommended to moisturize and feed eyelashes externally. Mix Vaseline with almond oil and a drop of castor oil to create a moisturizer for your eyelashes, that will help them grow healthier and longer.
5. Less hazards are better, make sure not to torture eyelashes with glues, extensions, too much mascara and such. If you do have a possibility to invest $139.00 into your eyelashes, we will recommend to purchase FYSIKO eyelash serum, 6-8 months supply, proven to grow long and thick eyelashes, even to people who had never had long or thick eyelashes. – See more at:READ MORE
Best eyelash enhancer – Fysiko Eyelash Serum
Fysiko Eyelash Serum will allow anyone to get long eyelashes fast. Fysiko Eyelash Serum needs to be used daily ( or nightly) for full 16 weeks to achieve best results. Fysiko Eyelash Serum applied to the roots of eyelashes on the upper eyelid. It found to be less irritating and more effective than other formulas.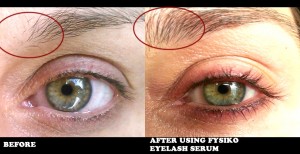 Fysiko eyelash serum has proven results and a lot of beauty bloggers had an opportunity to try Fysiko Eyelash Serum to see either it works or not. here are few links to Beauty Bloggers reviews about Fysiko Eyelash Serum, number one eyelash enhancer
This article was about how to get long eyelashes fast.