Posted by
admin
on Aug 31, 2011 in
Eyelash Growth Serum
|
Comments Off
Fysiko Eyelash Growth Serum is great solution for anyone who wants longer, fuller, more eyelashes!
Fysiko Eyelash Growth Serum works on eyebrows too!
Whatever your case is, did you lose eyelashes due to age, sickness, hormonal changes, over plucking or malnutrition, Fysiko Eyelash Growth Serum when used daily for 4 months will help to fill up bold spots, enhance appearance of eyelashes for longer, fuller eyelashes.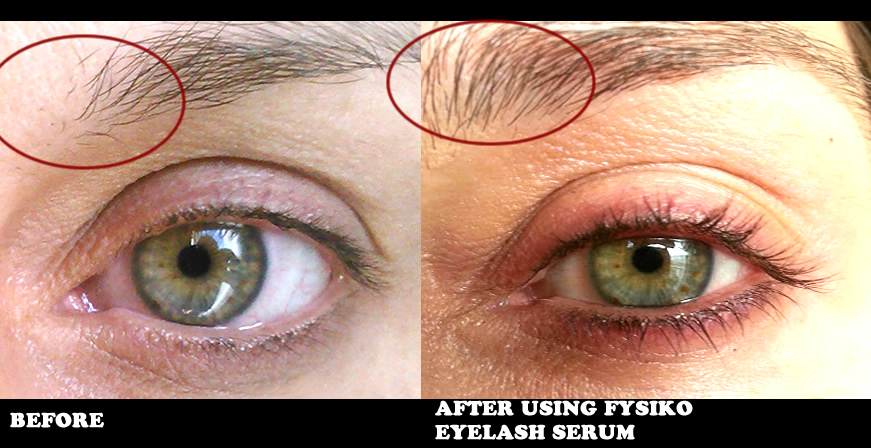 This is result of 8 weeks of using Fysiko Eyelash Growth Serum
Grow eyelashes naturally with Fysiko Eyelash Growth Serum.

Active ingrefients:
-Bio-Peptides and Amino Acids: Help to repair and strengthen fragile eyelashes and eyebrows.
-Vitamin E, Olive oil, Thyme, Biotin, Soy Protein : Natural lash enhancers.
-Sodium Hyaluronate: Promotes hydration and helps eyelashes and eyebrows appear shiny and strong.
-Methylamido Dihydro Noralfoprostal: Promotes healthy lash follicles for full growth potential.
-Panthenol: Helps eyelashes and eyebrows last longer by making them more flexible.
-After 6 weeks of regular use, 89% of trial participants reported that their eyelashes doubled in length and looked fuller.


-Use once a day at bedtime.
-Use brush to apply a line of product along the roots of the upper lash line.
-Use sparingly; only a small amount of product is necessary for each application.
-If using eye makeup remover prior to application, rinse the eye area with warm water to neutralize and wait until eyelashes are fully dry before applying product.
-If desired, also apply product to clean eyebrows at bedtime.