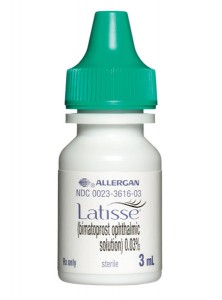 LATISSE® solution
is a prescription treatment for hypotrichosis used to grow eyelashes, making them longer, thicker and darker.
Eyelash hypotrichosis is another name for having inadequate or not enough eyelashes.
Latisse is marketed to help the eyelashes grow and give a fuller, longer, stronger and darker look. Latisse is a serum and comes in a drop form. The manufacturer states that Latisse is to only be applied to the upper eyelashes. Unwanted hair growth can occur if Latisse is accidently applied anywhere other than the upper eyelashes as directed by the manufacturer.
Our review staff has found that some Latisse side effects can occur. Some customers experienced Latisse side effects such as, burning in and around the eyes, redness and irritation and even discoloration of the iris in some extreme cases. Latisse is monitored by a healthcare provide to help reduce the chances of any harmful Latisse side effects that may occur. Results for Latisse can take up to 16 weeks to show. This may be expensive for some customers if their insurance does not cover the eyelash growth product or additional visits to the doctor are needed.
LATISSE® (bimatoprost ophthalmic solution) 0.03% Important Information
Indication
LATISSE® is a prescription treatment for hypotrichosis (inadequate or not enough lashes) to grow eyelashes longer, fuller, darker.
Important Safety Information
If you use/used prescription products for eye pressure problems, use LATISSE® under doctor care. LATISSE® may cause increased brown pigmentation of the colored part of the eye which is likely permanent. Eyelid skin darkening may occur and may be reversible. Only apply at the base of upper lashes. DO NOT APPLY to lower lid. Hair may grow on skin that LATISSE® frequently touches. If you have eye problems/surgery, consult your doctor about use of LATISSE®. Common side effects are itchy and red eyes. If discontinued, lashes gradually return to previous appearance.
To find a doctor for Latisse go to http://latisse.com